The central rule type has all the limiting and threshold values as well as conditions stored in it for analysing the security status of the computer systems on the Security Information Map and in the rule based analysis. The rule type already has standard rules defined within the scope of delivery for the product. User-defined rules can also be created that relate, for instance, to certain locations or protection classes.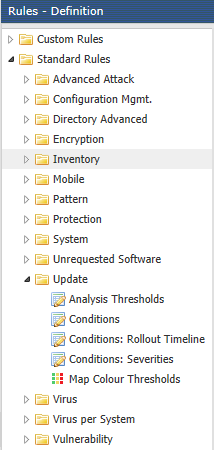 The rules can be applied amongst others to security sections, such as virus protection, updates, patches, vulnerabilities, or inventory.
These rules define precisely when the network fulfills the requisite security level and is protected sufficiently. Therefore the security team can verify the compliant network status towards the required security level.
Example
One requirement could be that a system in the "Virus Protection" area only counts as being compliant if it receives the current pattern/signature available every 240 minutes. Hence, the condition for distributing virus signatures is as follows: an online computer system is not allowed to be behind target for a pattern/signature by more than 240 minutes.