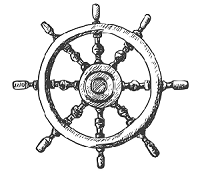 AMPEG is located right in the heart of Bremen's Old Town (Schnoor).
By ship
Across the North Sea passing the Roter Sand lighthouse, then up the Weser to Bremen. Or via the Mittelland Canal, then down the Weser to Bremen. The Schnoor quarter is located directly at the quay in front of the Tiefer. It is a 2-minute walk from the Tiefer to Schnoor 10.
By train
The central station is a 20-minute walk away from the city centre. Take the "City" exit and walk across the station forecourt to Bahnhofstrasse. When you reach the end of the street, turn right into Herdentorsteinweg/Herdentor and walk down this street to Sögestrasse (start of the pedestrian zone). At the end of Sögestrasse, turn left and walk to Domsheide, passing the market square. There you will find the Schnoor.
If you prefer to travel by tram from the central station, take number 4 (Arsten), 6 (Flughafen) or 8 (Huchting), and get off at the Domsheide stop. From there, it is a short walk of 2 minutes to Schnoor 10.
By car
If possible, park your car in the "Parkhaus Am Dom" car park. To navigate there with a GPS unit, enter "Parkhaus Am Dom - Wilhadistraße 1 - 28195 Bremen" as the destination. From the car park exit, it is only a short walk to the Schnoor.
Please note: The Bremen city centre is a low-emission zone. Only cars with a green or yellow environmental permit are allowed to drive here. All of the car park buildings inside of the low-emission zone also provide access routes for cars without a permit sticker.
By plane
Direct flights to Bremen airport (BRE) are available from several German and European cities. From the airport, take tram number 6 (which stops directly in front of the Arrivals hall) to the "Domsheide" stop. The ride takes about ten minutes. From there, it is a short walk of 2 minutes to Schnoor 10.