How to setup a central power management policy for Windows.
A policy setup in the Windows network Active Directory (group policy) manages centrally the power options in Windows Vista and Windows 7. This means that every computer added to the policy goes into sleep mode automatically during breaks from work. You will find an example of how to configure a tried-and-tested policy at the end of this article.
Requirements
1. Workstations with Windows Vista or Windows 7 running on them and an Active
Directory domain where the workstations are members.
2. Group policies should only be edited by trained administrators.
3. Servers or workstations which are not supposed to go into sleep mode should
not to be added to this policy.
Method
1. Create your own in-house power management policy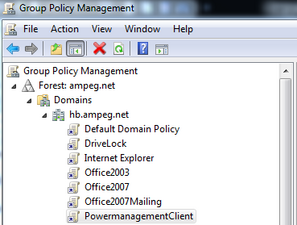 Open the Group Policy Management console and create your own policy for clients and laptops, such as "PowerManagementClient", in your Active Directory domain. Under Security Filter, add this policy to the computers that are to be assigned power saving settings. We have also created a "HBPowerManagement" group under Active Directory User and Computers in the "Bremen" OU for this purpose, that adds computers as members of this group and authorises the policy for the group.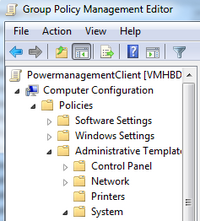 Important: using the settings described below, do not edit the domain default policy or any other default policies that may affect servers or workstations. Windows Server 2008 or servers running newer versions of Windows Server are also assigned these settings and go into sleep mode when required!
2. Configuring the power management policy
You can edit the policy by right-clicking on the newly created policy and invoking Edit. To do this, go to Computer Configuration > Policies > Administrative Templates > System in the configuration tree. You will find Power Management as an entry there.
Under Button Settings you can configure the options for pressing the Shut down and Sleep buttons in the Windows Start menu and for closing the lid on a laptop (Lid Switch).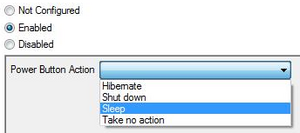 You can select the various options as shown below by right-clicking and invoking Edit.
The hardware disk settings are used to define how long it takes before the hard disk is disabled when the computer remains inactive.

Power management also contains configuration options for battery status notifications (Notification Settings), sleep mode (Sleep Settings) and switching off the monitor (Video and Display Settings).
The settings that have proven to be practicable are listed in the table below.
Settings for the Power Saving Options at AMPEG
The following settings find acceptance amongst both laptop and PC users: